Character Sheets
One of the unique things about BrickQuest is that the character sheet can be made out of bricks, just like the rest of the game. Shown below is a typical wizard's character sheet: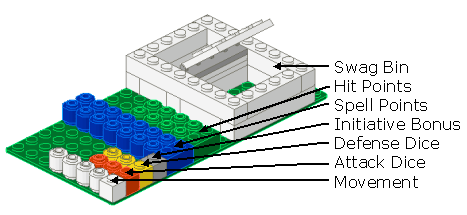 The bricks at the bottom of the character sheet represent what belongs above. For different characters, some of the columns will be empty. Change the colors as necessary to fit what you have the most of.
Swag Bin: If you find it in the dungeon and can fit it in here, you can carry it. It needs to fit completely--nothing sticking out the top. No living creatures, please. The slot above the swag bin (the part which doesn't have a lid) is for holding 1x1 rounds removed from the character sheet during the game.
Hit Points (green): Take off a 1x1 round every time you take a point of damage. Replace to show the results of a healing spell or potion.
Spell Points (blue): Take off a 1x1 round for each spell point you expend. Replace or add on to show the results of a mana potion or an infuse spell.
Initiative Bonus (light grey): Each 1x1 round represents a 1 added to the Initiative die roll.
Defense Dice (yellow): Each 1x1 round represents 1 die rolled for Defense rolls.
Attack Dice (red): Each 1x1 round represents 1 die rolled for Attack rolls.
Movement (white): Each 1x1 round represents 1 square the character can move as part of a standard action.
---
BrickQuest: By Peter F. Guenther, 2003-2007

The BrickQuest rules and the contents of this site are licensed under a Creative Commons Attribution-Noncommercial-Share Alike 3.0 United States License.
Questions or Comments? Email peterg1974@hotmail.com
LEGO® is a trademark of the LEGO Company, which does not sponsor, authorize or endorse this site.